New Delhi: On the third day, 6th December 2017 at International Aarogya 2017; Aarogyalay in association with NASYA (National Ayurveda Students and Youth Association) and Soch India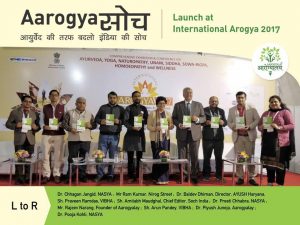 Newspaper commenced the launch of Aarogya Soch – a competition for doctors and students of BAMS, MD, MS, Ph.D of all Ayurveda Colleges in India.
It's  a great opportunity for students to gain visibility as to be Ayurveda Doctor. The competition's motto is to change the thinking of India towards Ayurveda. The winner would win coverage in Soch India Newspaper, a certificate and a prize.