All Panchayats in Kerala to have Ayurveda treatment facilities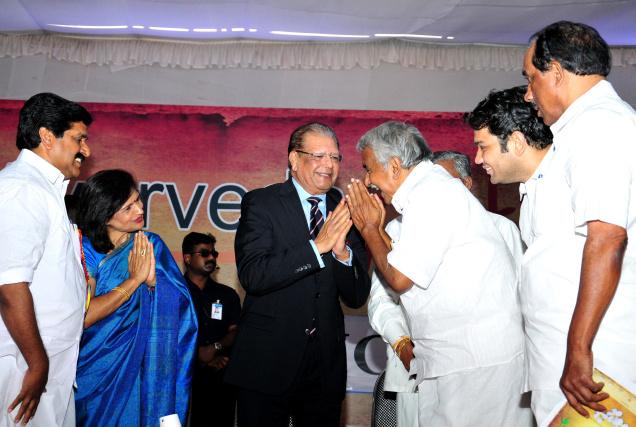 The Hindu reports from Kochi; Kerala Chief Minister Oommen Chandy said the government was keen on promoting Ayurveda system of medicine in the State. He said this during his inaugural address at the Global Ayurveda Festival here.
He said that within two weeks all the panchayats in the State would have Ayurveda treatment facilities: "Ayurveda is the tradition of the State and government policies will be formed to promote its therapeutic system. The government will provide Ayurveda treatment at the local level along with the modern system of medicine."
He said Sam Pitroda, Chairman of the National Innovation Council, had picked Ayurveda system of medicine as one of the key areas to be developed. The State was taking steps recommended by a sub-committee under his guidance, he said.
'Part of life'
Mauritius President Rajkeswur Purryag, chief guest at the meet, said Ayurveda practices were part of life in India, especially Kerala. He said 90 per cent of the population used some form of Ayurveda medicine: "It was a lifestyle perhaps originated around 5,000 years ago. There could have been an indigenous system of medicine in Kerala even before Ayurveda."
Healthcare system
He said Mauritius government had recognised Ayurveda as a major healthcare system. It was a way of life there, he added. He said Ayurveda should be used to treat new diseases.
P.K. Warrier, veteran of Ayurveda treatment in the State and chief physician and managing trustee of Kottakkal Arya Vaidya Sala, was honoured as Acharya Vandanam in the meet. The felicitations were received by K. Balachandran on behalf of Dr. Warrier.
The meet also honoured Ayurveda practitioners and corporate initiatives in Ayurveda.
V.S. Sivakumar, Minister for Health, presided over the function. K. Babu, Minister for Excise and Fisheries, inaugurated the Ayush Clinics.
Mahiepala Herath, Chief Minister of Sabaragamuwa Province, Sri Lanka; Hibi Eden, MLA and reception committee chairman Dr.G.G. Gangadharan, chairman, national steering committee, GAF, were among those who spoke.
Seminars, international business meets and an ayurvedic expo at the Jawaharlal Nehru Stadium ground, Kaloor, will be conducted as part of the four-day festival.
(Visited 49 times, 1 visits today)