Ayurved Sutra Bags 'AYUSH Kamal Ratna Award' by Shripad Yesso Naik in Goa
Panaji: Union AYUSH Minister Shripad Naik conferred Ayurved Sutra with the AYUSH Kamal Ratna Award in India's Premier Ayush Magazine category. Praising the work done by the International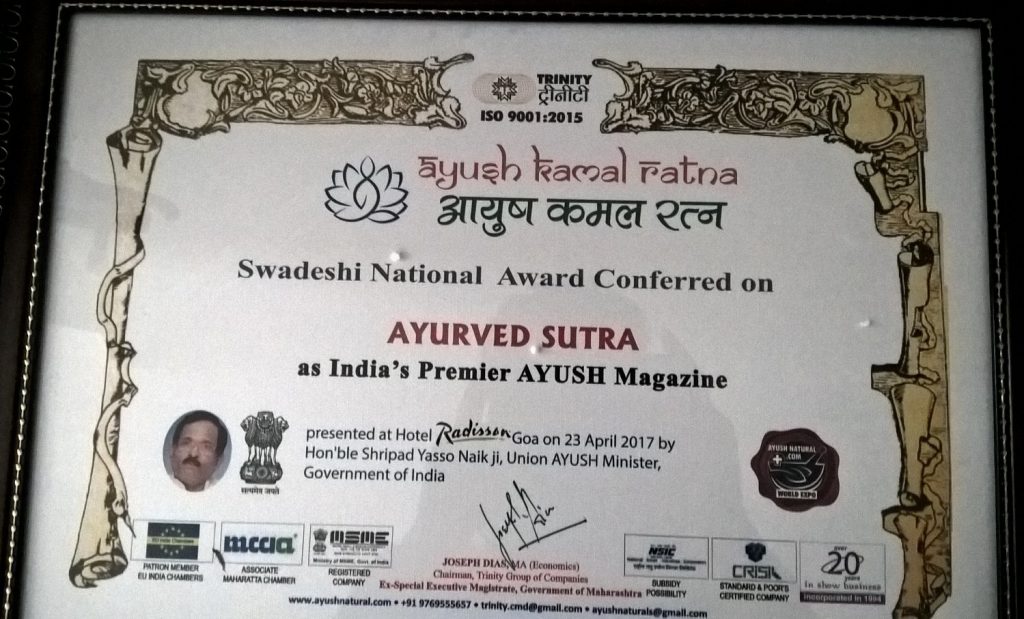 Magazine Ayurved Sutra in last four years, Mr. Naik said during AYUSH Natural World Expo exhibition,
"Ayurved Sutra has not only worked towards promoting Ayurveda and Traditional Medicine, but has also made effort towards to bring together the knowhow of Ayurveda and alternate therapies, and presented it in a scientific way along with the required research."
Along with Shripad Yesso Naik, the Award Ceremony was graced by the presence of the outgoing secretary of the AYUSH ministry, Ajit M. Sharan; Dr. G Geetha Krishnan, renowned Ayurveda Expert and Head, Department of Integrative Medicine & Holistic Therapies, Medanta – The Medicity and Dr H R Nagendra, an Indian mechanical engineer, Yoga therapist, academic, writer and the founder vice chancellor of Swami Vivekananda Yoga Anusandana Samsthana (S-VYASA), Bengaluru.
In a unique endeavour Trinity Group had organized AYUSH Natural World Expo- an exclusive exhibition of premium lifestyle products- AYUSH Natural and health foods, all herbal, natural and organic.
"This event marks Trinity's Swadeshi Ver 2.0 movement towards boosting manufacturing and use of indigenous products not just in the country, but also abroad. Yoga has been internationally accepted and appreciated. It is now up to us to make known the benefits of Ayurveda, Unani and traditional Indian medicine and wellness systems. AYUSH Natural + Health Foods Expo highlighted home remedies and medicare products that are chemical free, with no side-effects and are also with in a common man's reach. We also have companies who are offering cures for health conditions like hair-fall, varicose veins, urinary disorders and health supplements for sex related issues," exhorts Joseph Dias.
The event was held from 21-23 April, 2017 in Hotel Fidalgo, Panaji, Goa. The inauguration was held by Shripad Naik, Union AYUSH Minister. The event also saw Minister addressing the gathering where he went on to say that research in Ayurveda had brought researchers close to a treatment for cancer, which was on the lines of chemotherapy.
"Research is going on with American scientists to find a cure for cancer and even they have started to accept Ayurveda. On completion of the research, in the appropriate way, we will find and prepare the medicine for the fatal diseases. A cure for cancer will come," Naik said to a team of Journalist.
He further added that along with the government it is the responsibility of the media too to spread awareness about the work being done in the field of Ayurveda. Understanding the responsibility, Ayurved Sutra assured the Union Minister that they will soon come out with a premium issue on Cancer along with facts and complete researches.
(Visited 105 times, 1 visits today)