July 13, 2016, New Delhi: Given the buzz around alternative health systems and the boom in medical tourism, ayurvedic spas offering dubious Ayurveda massage and therapies are mushrooming all over the country. To caution you and to make you really understand what Panchakarma means, Ayurved Sutra, the unique wellness magazine and complete science of life journal has brought out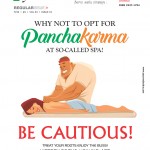 a special issue on the rejuvenating and detoxifying therapy.
This issue has lot to offer with Vaidya Rajesh Kotecha, Vice Chancellor, Gujarat Ayurveda University talking about 'Why not to Opt for Panchakarma at so-called Spa', where he has pondered in detailed about how amateur therapists are not even aware of the fact that the therapy they are performing can actually have an opposite effect if applied to the wrong person at the wrong time without observing the correct protocol.
Dr Mahendra Prasad, Lecturer, National Institute of Ayurveda, Jaipur elucidates on the Physiology of Panchakarma in his article while Dr K T Vinod Krishnan, Chief Physician of Amiya Ayurveda Nursing Home and Research Centre, Kerala throw light upon the entire procedure one has to adhere to while getting Panchakarma done. He unfolds the protocols and the methods one has to follow during the Pre-procedures and Pradhankarma. On the other side, Dr Subin Vaidyamadham , VPSV Ayurveda College, Kerala traces the history and origin of the therapy.
Dr Manasi Deshpande, Professor of Bharati Vidyapeeth University, Pune annotates about the oils and medicinal plants used during the three processes of Panchakarma. She explains how they help in the five-fold treatment of mental and physical wellbeing.
You as well get to read about the allied therapies of Panchakarma like Shirodhara, which rejuvenates the nervous system, releases emotions, open the subtle channels and unfolds bliss throughout the mind and body by Dr. Satya N.Dornala, Panchakarma Specialist at Swami Vivekanand Ayurvedic Panchakarma Hospital in Delhi.
Like diabetes, back pain has as well emerged as the most common problem everyone is facing these days. While you get to read Lauren Ladoceour giving an update about her personal experience of undergoing Panchakarma as she suffered from the severe  case of ketoacidosis, a life-threatening but reversible condition. You as well have Dr Raghuram Y.S., an ayurvedic physician in Bengaluru demonstrating the methods adopted to reduce low back pain while getting Panchakarma done.
Blood is the lifeline and very precious to human body. Elucidating about Raktamokshana, a method of bloodletting, Dr Ramesh Bhat, Professor and Head of Sri Sri College of Ayurvedic Science and Research Hospital in Bengaluru talks about its origin, classifications and how Raktamokshana helps in curbing the reoccurrence of disease.
Besides on a lighter note, you get to read Dr H R Nagendra, Chancellor, S-VYASA talking about his journey and how Yoga takes us to reality to fullest extent. Our columnist Maneka Sanjay Gandhi, Cabinet Minister and an Activist warns you about your lifestyle and how can we protect ourselves from getting breast cancer.
To subscribe the magazine you can log on to www.ayurvedsutra.com. The digital addition is available on magzter.com. Order copies through Amazon and Flipkart or  mail at ayurvedsutra@gmail.com or else you can send sms to +91 9549191222 or can call +91 9971710693.