India Expo Centre & Mart to host WAAYN 2019
India Exposition Mart Ltd. is organising the 1st World Assembly on Ayurveda, Yoga & Naturopathy (WAAYN) in 2019 at India Expo Centre & Mart, Greater Noida. The WAAYN will unite the best of the Natural Medicine Experts and Academic Institutions across the globe. The goal of the event is to highlight, focus on the Ayurveda and Natural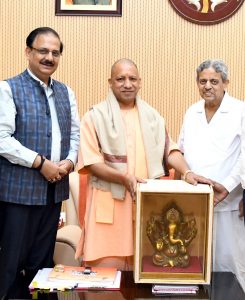 medicine system to the global audience. The event will be of great assistance to present educational knowhow and benefit in networking among the professionals worldwide. Keeping in line with the vision given by the Honourable Prime Minister of India, Narendra Modi ji, it is time to bring the glory back to our ancient and traditional healing systems and to integrate the same with modern medicine.
Rakesh Kumar, Chairman, India Exposition Mart Ltd (IEML) had informed that, WAAYN will be the biggest platform for the trade as well to provide a good foundation and set an ambitious goal to globally increase market share, customer access and profitability in this sector. Shri. Kumar added, "Under the guidance of Dr. H R Nagendra (Padma Shri), President of Vivekananda Yoga Anusandhana Samathana (VYASA) and also the Chancellor of S-VYASA University, IEML has formed an advisory committee regarding organising WAAYN."
A high level delegation led by Dr. Nagendra had recently met Yogi Adtiyanath, Chief Minister of Uttar Pradesh at his residence to discuss about the finalization of this flagship event of IEML. Mr. Rakesh Kumar, Chairman, India Exposition Mart Ltd., along with other stalwarts like Dr. Manjunath was a part of the delegation. The delegation also met Hon'ble Shri Ram Naik ji, Governor of UP and  Keshav Prasad Maurya, Dy. Chief Minister, Uttar Pradesh.
Dr. Naveen Visweswaraiah, President, Indian Naturopathy and Yoga Graduate's Association (INYGMA) said, "The ancient wisdom in this traditional system of medicine is still not exhaustively explored. Traditional medicine particularly herbal medicine considered as a major healthcare provider around the globe particularly in USA, Australia and Europe. Indian traditional medicinal system has a very rich history of their effectiveness; modern research also acknowledged the importance of such medicine.
This World Assembly would help the budding scholars, researchers and practitioners, end-users, trading bodies gain deeper perspicuity of traditional systems of medicine, facilitate strengthening of the commonalities and overcome the challenges towards their global acceptance and harmonization of such medicinal systems."
WAAYN will also host The Healthy Living Expo with the focus of anything and everything that makes our living healthy. The expo will showcase products and services from Organic Industry, Aroma & Essential Oils, Ayurveda Products, Supplement & Nutraceutical Products, Healthcare Technology & fitness wearable devices, Spa & Beauty, Ayurveda & Health Resorts, National / International Tourism Boards, National & International Universities, Machinery & equipment (packaging / process engineering, etc.), Medical technology, Medicines producers / products (ayurvedic / herbal / homeopathy / organic / siddha / unani, etc.), Fitness / slimming centers / diet clinics equipment & products etc.
WAAYN will also witness the first Investors Summit in this sector. Dr. Rajesh Kr. Singh, Vice President, INYGMA informed, through this investor summit, WAAYN will provide a platform for the best minds and expertise round the world in the field of Ayurveda, Yoga & Naturopathy to collaborate with each other in this endeavour. WAAYN will provide all stakeholders complete support in facilitating  and grounding investments across the country. The Wellness sector has experienced unprecedented economic growth over the last few years and only the Ayurveda market is expected to grow by a three-fold increase in size from $2.5 billion to $8 billion by 2022, as stated by Shri Shripad Yesso Naik, Minister of State, Ministry of AYUSH last year at the 2017 Ayurveda Conclave, Delhi.
Discussing about the format of the Assembly, Dr. Manjunath N K, Director International Affairs, Professor & Head, Avasana Research Laboratories, emphasised about the uniqueness of the design of the event. He said, "This is the only World Assembly of its kind to have an equal focus on every aspect of the event.
Along with the Expo and the Investor's Summit, WAAYN will also have a very strong Knowledge Summit." It is informed by Dr. Manjunath, that the Knowledge Summit will have parallel tracks in Ayurveda, Yoga, Naturopathy which will be purely technical in nature and will be attended by scholars, practitioners and students worldwide.
WAAYN also plans to organise Public Sessions every day where the stalwarts from the Yoga and Ayurveda across the world will be addressing the general public.
Dr. Surendra Chaudhary, President, Viswa Ayurveda Parishad has appreciated the efforts taken by India Exposition Mart Ltd. He said, "I thank the Chairman and the management of IEML to take this effort of organising WAAYN. This event is going to be the one of the events of its kind that will bring the world of natural medicine and healthy living together, and I am moreover happy because it will take place in Greater Noida."
(Visited 94 times, 1 visits today)