Dr Rajesh Kotecha launches Wellness Directory by Ayurved Sutra
Swapna Nagari, Kozhikode, GAF-16 : Dr Rajesh Kotecha, Vice Chancellor of Gujarat Ayurveda University, Jamnagar inaugurated the Wellness Directory and Ayurved Sutra's special issue on Wellness Tourism here on January 31, 2016 at the 3rd Global Ayurveda Festival being organized in Swapna Nagari, Kozikhode, Kerela.
On the occasion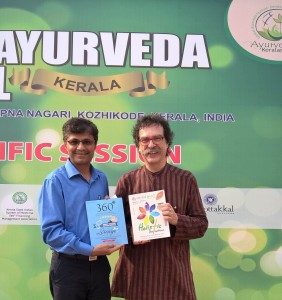 of Global Ayurveda Festival 2016, Ayurved Sutra had come out with a Wellness Directory and a special issue on Wellness Tourism. The Wellness Directory includes a list of top most Wellness Centers across the country, their addresses, emails, phone numbers, website links and other important details. Now, you don't have spent hours on your laptop trying to figure the best Wellness properties in the country.
"It is always difficult to find a good hotel, resort or a spa even if you have chosen the destination. The Wellness Directory by Ayurved Sutra is a very useful handbook that can save lot of time of the people wanting to enjoy their holidays at the holistic destinations in India," informs Rajesh Kotecha.
In addition the special issue on Holistic destinations is very informative and useful, as it throws light on the facts and the reasons as to why should one visit the place," he further added.
The extended list include holistic destinations namely Ananda Spa, Kairali Ayurvedic Healing Village, Palakkad, Isha Yoga Center, Pune, Alila Diwa, Goa and many others.
Rajesh Kotecha is an Indian Ayurveda physician who received a Padma Shri Award for Medicine in 2015. He is the Vice Chancellor of Gujarat Ayurveda University, Jamnagar. He founded the Chakrapani Ayurveda Clinic & Research Center in Jaipur, India in 1998. He is a member of the Advisory Panel to the CCIM, Department of AYUSH.
(Visited 205 times, 2 visits today)