Sri Sri Ayurveda launches Ojasvita; PV Sindhu to endorse the brand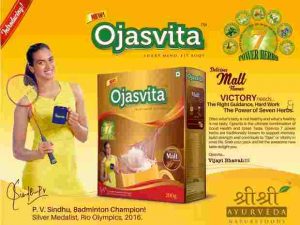 Taking a step forward towards a healthy world, Sri Sri Ayurveda recently launched Ojasvita. The health drink will be available in six flavours including chocolate, strawberry, vanilla, mango and Ragi. Olympic silver medalist PV Sindhu and chief National Coach for the Indian Badminton team Padmabushan P Gopichand has been signed on as the brand ambassador for the health drink, who unveiled the product at the event.
Sri Sri Ayurveda is the consumer products brand by the spiritual guru Sri Sri Ravi Shankar. The 200 gram packs are priced at Rs 120.
Sri Sri Ravishankar entered the FMCG space with the launch of his company Sri Sri Ayurveda (SSA) in 2003 and majorly focuses on Ayurvedic products. SSA has products across categories such as breakfast cereals, health drinks, oil, spices, personal care, oral care, cookies and ready-to-cook items.
(Visited 153 times, 1 visits today)