Vaidyaratanam Oushadhasala to Organise International Ayurveda Conference
KOCHI: The Rs 100 crore Thrissur-basedVaidyaratanam Oushadhasala is organising an international ayurveda conference as part of its platinum jubilee celebrations, ET reports. The conference is being held with the support of the Ayush departments of the state and the centre in Thrissur from January 13 to 15.
Dr E T Neelakantan Moos, the director of Oushadhasala, said close to 1000 doctors are likely to attend the global meet. Of this about 200 would be delegates from other countries. Titled Vajra 2016, it will focus on `lifestyle diseases and ayurvedic treatment'. "International experts ar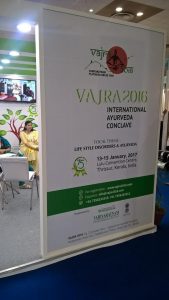 e expected to present papers on the topic," Moos said.
According to Moos, the number of patients coming for treatment of lifestyle diseases has increased in the recent years. "Basically it results from a sedentary lifestyle without exercises," he said. The institution has been organising seminars with the co-operation of the public to campaign for the cause of Ayurveda.
(Visited 53 times, 1 visits today)