Posted on
PM says govt planning one Ayurveda hospital in every district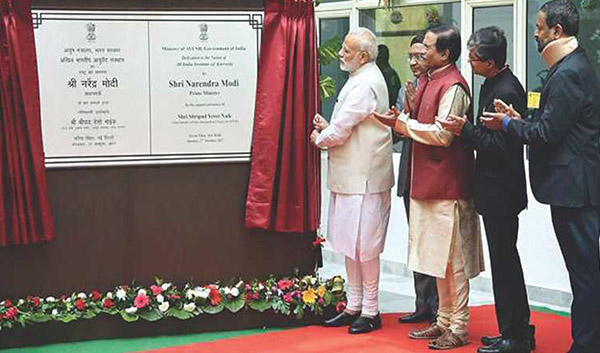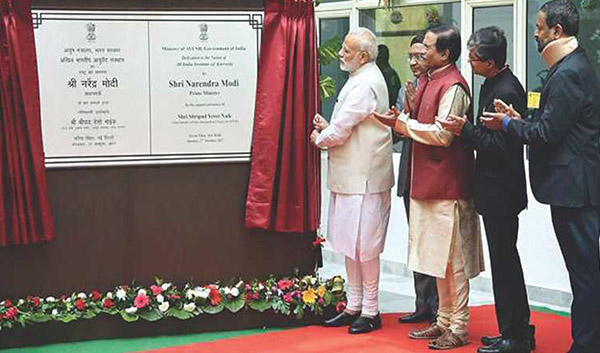 Prime Minister Narendra Modi appealed to the private sector to channel some of its corporate social responsibility (CSR) funds towards the development of yoga and Ayurveda.
Inaugurating the first All India Institute of Ayurveda (AIIA) in New Delhi, Modi said his government was working to establish an Ayurveda hospital in every district.
"It is necessary to expand and revive Ayurveda. We have witnessed the IT revolution in last 30 years. Now, the time has come for health revolution under the aegis of Ayurveda. More than 65 AYUSH hospitals have been developed in the last three years," said Modi.
AIIA has been set up along the lines of the All India Institute of Medical Sciences (AIIMS), with a total campus area of 10.015 acres and a budget of Rs157 crore. AIIA, under the AYUSH ministry, is aimed at bringing synergy between the traditional wisdom of Ayurveda and modern diagnostic tools and technology.
The Prime Minister also released the "Ayurvedic Standard Treatment Guidelines" developed by the AYUSH ministry. The Pharmacopoeia Commission of Indian Medicine and Homoeopathy is also working for the standardization of traditional Indian medicines.
The government has worked to promote alterative systems of medicine. The government also foresees a three-fold increase in Ayurveda facilities in the next five years, with the active participation of the private sector.
In order to popularize Indian systems of medicine across the world, the AYUSH ministry has opened AYUSH information cells in 29 countries. The ministry has signed a memorandum of understanding (MoU) with the National Health Organization of the US for development of Ayurveda and yoga.
"We respect all healthcare systems and want the growth of all and the poor should get access to healthcare systems. Ayurveda can play an important role in this," Modi said.
Modi said that the AYUSH ministry in collaboration with the ministry of skill development should develop short-term courses for students and farmers; farming of medicinal plants would generate employment opportunities.
He also emphasized the need for research into medicines that provide instant relief without side-effects and also modern packaging for Ayurvedic medicines.
"We need to revisit the existing Ayurveda education structure and certificates after every level of Ayurveda education should be given. The supporting chains of ayurveda must also be developed," Modi said.